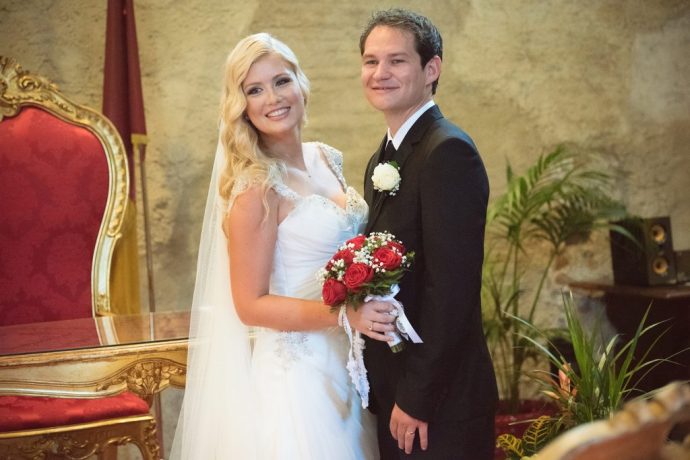 A Ceremony in Caracalla, Rome in pills:
Wedding hall in Complesso Vignola Mattei, Caracalla
Indoor Wedding Venue
Elegantly decorated with royal red colors and and Roman Statues
Civil ceremony
All Week (tue excluded)
All citizenships
Elegant Wedding hall, in an ancient Roman Church near the Colosseum and the Roman Forum
Opening time (30 minute sloti is assigned for the ceremony based on the town hall availability at the time of your booking):
- Wednesday: from 9:00 to 12:30 
- Thursday : from 9:00 to 12:30 (from June 1st to September 30th 
also from 16:00 to 18:00) 
- Friday: from 9:00 to 12:30 and from 16:00 to 18:00
- Saturday: from 9:00 to 12:00 and from 16:00 to 18:00
- Sunday: from 9:00 to 12:30

The hall is closed on civil and religious holidays.
Caracalla Wedding Hall, AKA Complesso Vignola Mattei, is an ancient Roman Church now used as a Civil Wedding Hall by the Registry office in Rome. Located in the Caracalla gardens, away from the busy streets of Rome, yet very central, at a few steps from Circo Massimo and the Colosseum. Ideal for legal binding ceremonies with or without guests and just perfect for eloping in Rome.
Just Get Married in Italy will create your memorable wedding in the Rome in Caracalla or your choice of having a ceremony at the Sala Rossa in Campidoglio or at Villa Lais.
Sala Rossa Wedding Hall, Caracalla Wedding Hall and Villa Lais are the only civil venues currently available for legal binding weddings in the heart of Rome. More Glamorous Italian Wedding Halls, sharing the same beauty and style of the ones in Rome, are located in the outskirt, in the Lazio region, at a very short drive from Rome.
A Sandy Beach Wedding Ceremony in Rome is also a wonderful Seaside Wedding option in Italy.
Blessing, Renewal of Vows & Commitment Ceremonies in Rome can take place at Villas, Hotels, sandy beaches or at any location of your choice.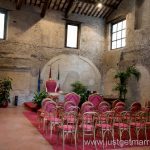 Caracalla, Rome Weddings
" We had the most wonderful experience in Rome! We could not have asked for a more beautiful and memorable wedding. We were thrilled with the entire experience and would wholeheartedly recommend 'Just Get Married in Italy' services to anyone"
". Everything from the hairdresser to the photographer was amazing and made our day special. Thanks so much to "Just Get Married in Italy" for giving us memories that will last a lifetime! "
Kerry & Michael (uk)
married in tivoli, lazio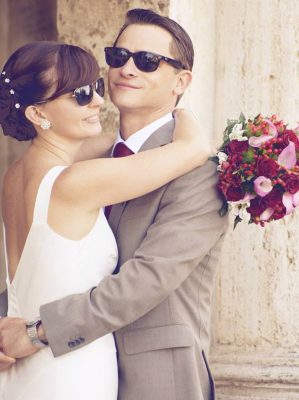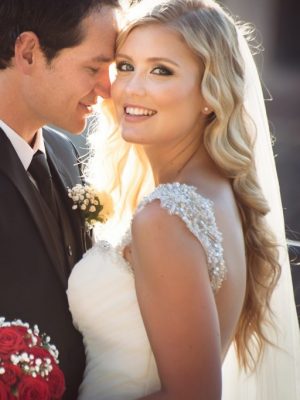 "Just Get Married in Italy' made the process completely stress-free and they went above and beyond to make our day perfect. Thank you from the bottom of our hearts! ."
married in caracalla, rome